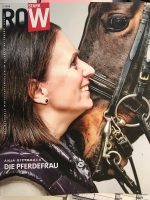 Today is actually a quiet day – in relative terms. 4:00 p.m. and Anja Rietbrock stands in the cold stable mixing disinfectant. But there are also completely different scenarios in which she takes center stage. Then the horse management master negotiates on the international stage, passes on her knowledge during courses in Vienna, Munich, USA and Italy or sits in the saddle and rides high tests. "It's fun to be underground all over the world," she says.
At home in Sottrum, the 51-year-old has been successfully running a training company for show jumping and dressage horses with a focus on riding on seven hectares for 30 years together with mother Kristin Rietbrock, everything completely renovated and refurbished in 2015. The overall pact of young horses / young people is something rare, says the woman with the orange cap. Because the training of show jumping and dressage horses as well as the training of horse managers does not exist very often in this form. There are only a few training companies left that provide training. One or two apprentices regularly complete their training to become equine managers with a focus on riding at the Sottrum facility. With her in Sottrum there is only one boss and one line, which distinguishes her from companies with riding clubs. "And they are all sports riders and not teddy-bear-lift-up-riders".

WORK
In addition to the training center, An der Weide 41 in Sottrum also slowly grew into a pension company. Maintaining the profitability of their operations was the driving force. Because the hay prices, which rose astronomically last summer, pushed some businesses to their economic limits. Anja Rietbrock also phoned Poland and France in search of good hay, which she has been getting on the Bremen blockland for many years.
"Trump managed to reduce business with the US," she stated soberly. That is also a reason to position yourself broadly. Nevertheless, she has managed to retain customers from the USA and Canada for many years. Many of these contacts result from her father's time, she proudly reports. Retaining customers over the long term works because she is betting on the right horse with quality and honesty.
Business has become more difficult. Nowadays, the buyer's ideal would be more like a horse with a "joystick", on which everything works the same, is easy and convenient. Very few wanted to deal with the horse properly, so their experience.
FUN
"Finding, training and leaving for the sport, that's fun for me," says the Sottrum woman, who passed her judge's license in 2018, even after 25 years. In the industry, the horse trade champion is more of a lone fighter. She describes herself as a "horseman from scratch". And so she thinks less of Google knowledge. "Nobody can brush properly anymore", knows Anja Rietbrock, who, according to the old school, was trained by real horse people like her parents in the state riding school in Hoya, with Hans-Heinrich Meyer zu Strohen, Dr. Uwe Schulte, Fritz Ligges, Peter Luther and Dr. Uwe Schulten-Baumer learned. Your apprentices benefit from this. In contrast to her own training time, in which her day began at 6:00 in the morning and ended at 22:00 in the evening, the Sottrum training stable was like a "pony farm". That's how she tells "her" girls. Because Anja Rietbrock ensures that the future horse farmers have fun in their professional life. Even today, girls are in the majority in this profession. During the entire 25 years she bid out only three male apprentices.
Idealist
You have to be a great idealist to work with horses, the equine economist soberly states. If you offset work, effort and income against each other, you would quickly come to the conclusion that you are going to another profession. On the advice of her father, she tried out "sensible" professions such as decorator, interior decorator and florist for a year. "It's not that", she realized very quickly. At that time she was already riding at the Verden auctions. This made her professional development clearer. "Every day is new and every horse is a challenge," is how she describes her everyday life. But she always has to be her "Man" in her profession. Despite all the idealism, it is no longer fun to stand in the riding arena, even at temperatures of minus 6 degrees Celsius. nevertheless, even after so many years, she still likes to feed her life. "Nibbling on hay and oats is a super noise for me". Because it was so relaxing, she didn't need a "Kling-Klang-Massage".
Wednesday is the day of her week that she describes as rather quiet. Nevertheless, Anja Rietbrock is in demand at all corners of the stable and riding arena. Whether it is a horse that she is taking from her stable master or lighting that is not working in the saddle room of the renovated stable section, she is the contact person.

*Quelle Regionales Wirtschtsmagazin*

---