This beautiful Andalusian knows how to please. He is correctly built, has a good height of 1.65 meters and comes in a special color dark chestnut. A great horse that has been ridden mainly off-road and is now being ridden with us in daily  dressage manner.
He learns very quickly and is easy on the reins and reacts well to the helps. A horse that should definitely be trained further, as it is obviously keen to learn and to be trained. We see Padilla as an upscale leisure horse for dressage, trail riding and / or working equitation. A great guy with no flaws.
Padilla brings a complete purchase examination with X-rays and of course has been dewormed, taken care of by a dental veterinarian and he is vaccinated.
---
| | | | |
| --- | --- | --- | --- |
| Name: | PADILLA | Gender: | Gelding |
| Age: | 2015 | Height: | 1,65 m |
| Colour: | Dark Chestnut | Training Level: | Basis + |
| Location: | Northern Germany | Price Level: | SOLD |
---
Fotos:
---
Video: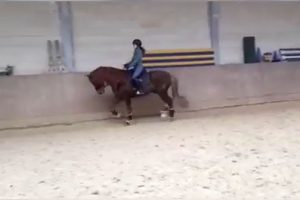 ---
If you are interested in this horse, please use our Contact Form