Due to the corona crisis, this course is postponed.
The preparation for the new season is starting now
"Better Riding of Skills"
From and with Ulrike Hatzl and Anja Rietbrock
10th/11th April and 13th April 2020
in Sottrum Stables Rietbrock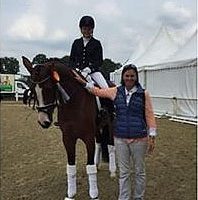 Everybody is Welcome!
10./11.04. intensive single training of 40 minutes (80,- Euro)
11.04.
Theory "Mental preparation for successful competition riding (15 euros for external participants who do not take part in the course)
13.04. Riding of Skills with judging and supervised riding. (40,-Euro)
Dressage course, theory and task riding can be booked individually.
If you take the full package of clinics you pay 120,- Euro (plus 10,- Euro per day for the usage of the equestrian facility)
Binding registration under phone number: 0171/63 59 069
Cancellation of the course for personal reasons is possible up to 5 days before the start of the course. Otherwise the course fee must still be paid.
Horse Economist with "Classic Dressage Riding Education"
Website Ulrike Hatz    –     Website Anja Rietbrock