Who has not noticed in the media, the dramatic conditions in Valencia / Spain with an outbreak of herpes type I of the most aggressive variety. There are reports from Valencia that report war-like conditions, drama and initially also aggressiveness and panic. In the meantime, however, they are fighting together, shoulder to shoulder, for the life of the horses. There are currently 130 infected horses, with the most severe courses. Of course they have separated the animals, over 30 vets are on site and do their best to save the lives of as many horses as possible.
Horses that were still negative were separated in their own box tents and as soon as they had survived the 20 days of quarantine and were still negative, they were allowed to leave for their home stables.
What does this situation in Valencia mean for us and the emphasis is on "VALENCIA"?
Well, so far there has not been a single case in Spain of this aggressive herpes virus type I. The virus was introduced by one of the participating horses. In this regard, we can be sure that our horses in Germany in our stables and also the horses for sale prepared for transport in Spain are healthy and negative.
Nonetheless, we want to be prepared if the situation should now expand and spread. Therefore we have already had our entire population in Sottrum vaccinated against herpes.
All horses for sale in Spain are subjected to a laboratory test. Only if they are negative will we transport them to Germany and then immediately vaccinate them in Sottrum. Horses for sale that will not go on transport for weeks will be tested and vaccinated on site in Spain.
We will do our best to ensure that it does not spread, be it in our stables or in customer stalls.
Here is a video with Anja Rietbrock on NDR two days ago.
---
Video: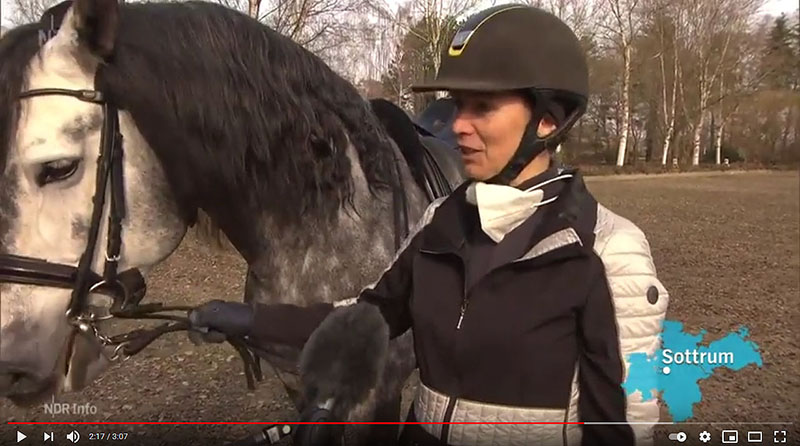 *Quelle ZDF Mediathek*