On 19 October 2023 appeared an article by Tom Kreib about Anja Rietbrock and her Spanish horses in Sottrum in the Kreiszeitung.de. We thank you very much for this.
---
Proud, clever and sensitive: Spanish horses in Sottrum
by Tom Kreib, http://www.kreiszeitung.de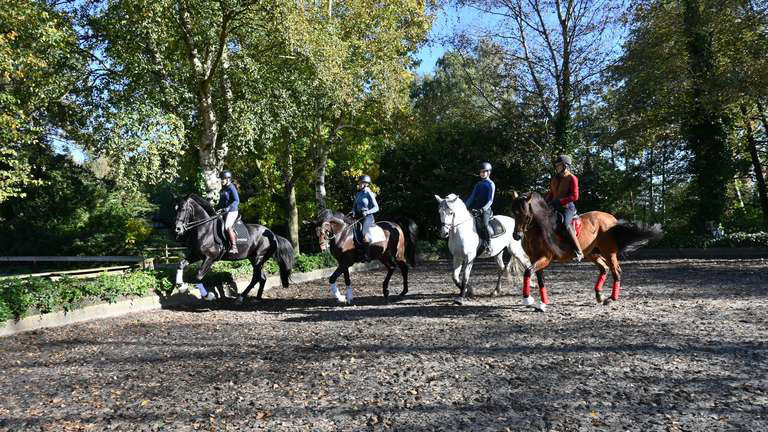 Anja Rietbrock (right) with her colleagues at work: "This is the best job I can imagine." © Kreib
Professional rider Anja Rietbrock from Sottrum grew up with Hanoverians. For some years now, however, her stable "BarockmeetsClassic" has also had Iberians. Rietbrock raves about the power and sensitivity of the Spanish horses.
Sottrum – Laureal is an impressive appearance. A real powerhouse with a lush mane, huge neck and textbook movements. The 14-year-old PRE stallion piaffes with apparent ease. "He's been my Grand Prix and show horse for a year now," says Anja Rietbrock. The professional rider from Sottrum still has big plans for Laureal. "The best years are yet to come." In her stable on the outskirts of Sottrum, which is called "Barock meets Classic", there are other Iberians – horses from Spain. This is still a speciality in the stronghold of the Hanoverians.
"I was born into a family of horses and was able to ride rather than walk," says Rietbrock. The Sottrum native, who is also active in the Hanoverian Breeding Association, started her riding career with warmbloods. The path to horses from Spain was not predetermined.
"A few years ago, I had problems with my intervertebral disc," says the owner of BarockMeetsClassic, looking back nine years ago. A friend recommended a PRE to her and she had it fitted. "It was good for the intervertebral disc and for me," says the equine specialist. The reason for the disappearance of the complaints: The Spanish horses don't have the great impulsion of the Hanoverians – but, as Laureal is the best example of, they can be trained in the same way up to the highest dressage movements.
Iberians are workhorses
Anja Rietbrock draws an interesting car comparison to illustrate the difference between warmbloods and Iberians: "The Spanish horse is like a Porsche, but it can be driven like a VW." The Iberians are spirited but easy to handle.
But one thing should not be underestimated: "Iberians are workhorses." Rietbrock draws another comparison, this time with dog breeds. "They are like the boarder collies among herding dogs." Whether PRE, Andalusian or Lusitano – these horses want to be worked. A life of laziness in the pasture and paddock is not for these breeds. Which also applies to Hanoverians and the like, adds the Sottrum native.
Anja Rietbrock with the 14-year-old stallion Laureal. © Kreib, Tom
The horses for her sales stable come directly from Spain. Rietbrock works with several breeders and takes over the animals when they are four to five years old and broken in. Further training, up to the highest disciplines of dressage, is carried out by the horse professionals in Sottrum. "Training young horses is a vocation for me," says the specialist.
When it comes to buying new horses, the basic question for her is: "Would I want to have this horse in my stable as my own?" Only if Rietbrock answers in the affirmative will a horse make the journey north. For the horse professional from Sottrum, breed and papers are not the only decisive criteria when buying a horse. "How does the animal move, what does it look like and, above all, what is its character like? are the decisive questions.
Just as not every Iberian ends up in Sottrum, Rietbrock doesn't sell to just anyone. "I make sure it's a good fit," she emphasises. The positive feedback she receives from many customers shows this: The Sottrum native has a good instinct when it comes to horses and people. Rietbrock will continue to remain loyal to the warmbloods. But when she talks about her Iberians, a passion resonates that shows her love for the Spanish horses: "They are so proud, sensitive and clever."
Anja Rietbrock is living her dream with Iberians and other horses. "It's the best job I can imagine. Working with horses means experiencing something new every day."
Contact: More information about Anja Rietbrock and her horses at www.barockmeetsclassic.com.
---